In today's digitally-driven world, a reliable and high-speed internet connection is more than just a basic requirement for businesses—it has become their lifeline. Whether leading a small-scale startup or managing an established corporation, investing in high-speed business internet can unlock many advantages that directly impact every facet of your operations.
In this article, we will delve into the first-class benefits that come hand-in-hand with upgrading to a lightning-fast internet connection.
This guide is here to help. Here's what we'll cover: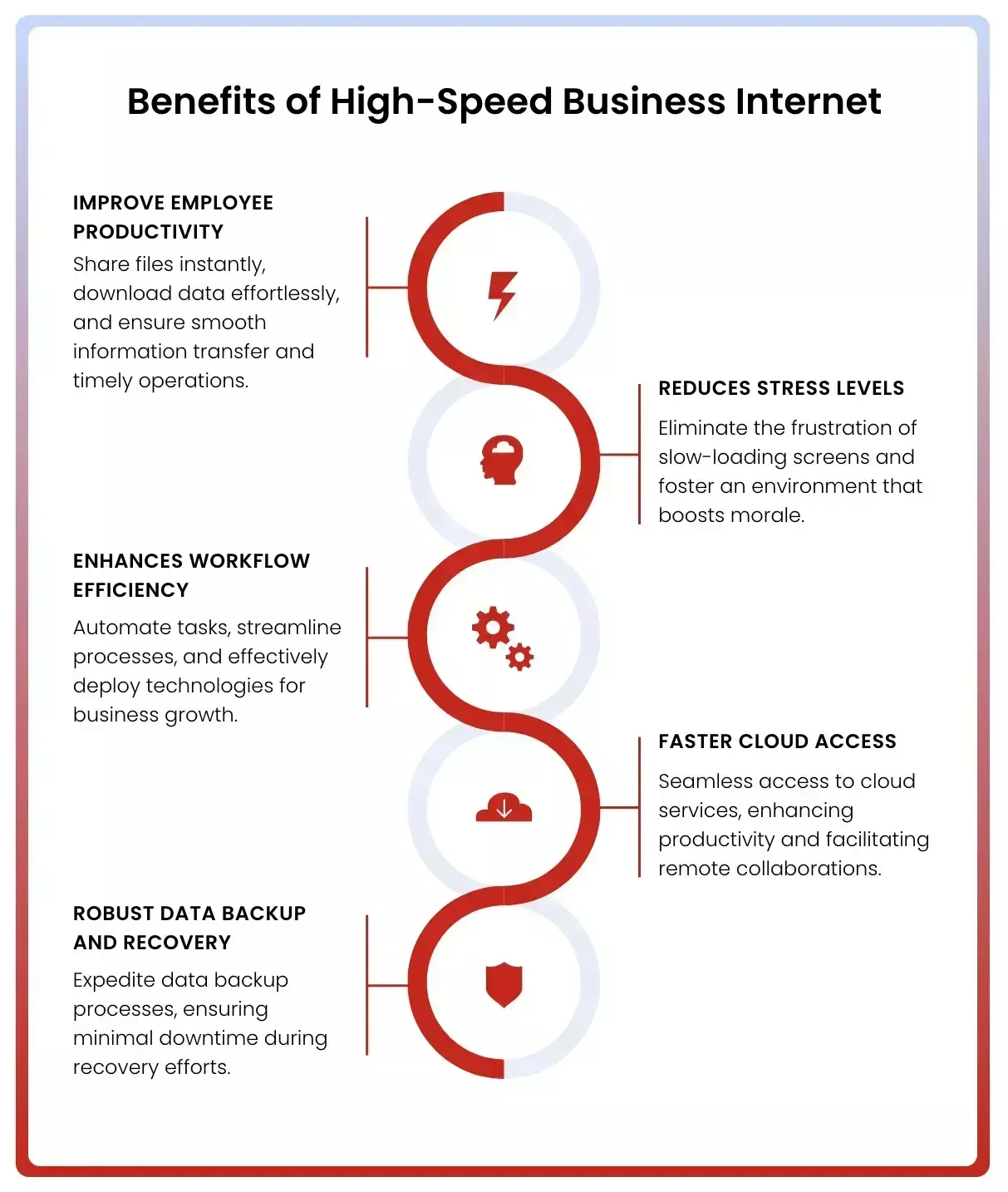 Why is High-Speed Internet Important For Businesses?
High-speed internet is indispensable in modern business models, underpinning success by enhancing productivity, revolutionising business communications, and enabling the shift of taking operations for the entire business online. As the business landscape evolves, the benefits of business internet have become synonymous with ensuring business continuity and developing efficient operations.
With the rise of remote work and reliance on cloud-based services, a robust high-speed internet connection is the backbone of seamless operations despite geographical boundaries. This connectivity empowers teams to collaborate effortlessly globally, facilitating the exchange of ideas, data, and insights. Regardless of location, employees can access shared files and applications without enduring frustrating delays, directly improving efficiency.
Benefits of High-Speed Business Internet
1. Improving Employee Productivity
Armed with a powerful high-speed business internet, your staff members can instantly share files, documents, and resources without contending with tiresome lags or irritating delays.
Downloading large presentations or vital data becomes effortless when every click leads to instantaneous results. Smooth information transfer within your organisation allows swift project progression and timely delivery of day to day operations.
2. Reducing Stress Levels
Slow-loading screens dampen spirits and create unnecessary stress among your employees. Picture a situation where an email attachment of paramount importance takes aeons to download because of insufficient download speeds, while crucial decisions hang precariously in the balance.
Using the internet should make lives easier, not harder. Investing in high-speed business internet eliminates the frustration stemming from sluggish connections, creating an environment that boosts morale and fosters a successful business.
3. Enhancing Workflow Efficiency (+ Tap Into Business Automation)
With a swift and reliable connection at hand, businesses can automate repetitive tasks, streamline business processes, boost business productivity and allocate resources with precision.
From customer relationship management (CRM) systems to cloud-based project management tools, high-speed internet is the catalyst for effectively deploying automation technologies - essentially driving business growth.
4. Faster Cloud Access
The arrival of cloud computing has revolutionised how businesses function by providing secure and flexible storage solutions. However, accessing data from the cloud necessitates a reliable and rapid internet connection as well as secure corporate networks.
High-speed business internet ensures your team members can seamlessly access cloud services without any unwarranted delays or interruptions—enhancing productivity levels and facilitating seamless remote collaborations.
5. Robust Data Backup and Recovery
Data lies at the core of every viable business model and operation; safeguarding it through secure backups is crucial for long-term continuity in case of unforeseen events such as hardware failures or cyberattacks.
High-speed business internet expedites data backup processes, resulting in minimal downtime during recovery efforts.
By embracing the benefits of business internet, from accelerated download speeds to fortified internal communications, businesses can optimise their processes and thrive in the online business realm. This elevated online presence gives business owners the tools to navigate their corporate network effectively, boost operational efficiency, improve online sales and leverage the digital landscape's biggest advantages.
From refining day-to-day operations to enhancing customer service, high-speed business internet is an indispensable cornerstone of modern business success.
Real-Life Examples of Businesses Benefitting from High-Speed Internet
While discussing the benefits of high-speed business internet, it's crucial to examine real-life examples of organisations that have reaped rewards from embracing this transformative technology.
Let's explore a few notable case studies that highlight how businesses across various industries have experienced significant improvements in their operations with internet access that makes a difference.
Slack:

The popular communication and collaboration platform Slack relies heavily on fast internet connectivity to provide seamless messaging, file sharing, and video conferencing capabilities to a global marketplace. Their ability to deliver instant, reliable communication has enhanced productivity levels and streamlined team collaboration.

Airbnb:

As a leading online marketplace for lodging rentals, Airbnb depends on high-speed internet for both hosts and guests. Fast connections enable hosts to quickly update listings with photos and descriptions, effectively engaging potential customers. For guests, smooth access to the platform enables efficient booking processes and seamless communication throughout their stay.

Shopify:

Shopify is a renowned e-commerce platform that empowers businesses of all sizes to sell products online. With high-speed internet, Shopify merchants can efficiently manage their websites, process orders seamlessly, and deliver optimal shopping experiences to customers around the globe.

Tesla:

Tesla's innovative electric vehicles utilise over-the-air software updates made possible through high-speed internet connections. These updates enhance vehicle performance, introduce new features remotely, and ensure that Tesla owners can benefit from continuous improvements without needing to visit service centres. This powerful level of connectivity demonstrates how high-speed internet helps build reliable and cutting-edge products.

Netflix:

As one of the world's largest streaming platforms, Netflix requires lightning-fast internet speeds to deliver high-quality video content in real-time. The reliability of high-speed internet makes Netflix accessible for millions of viewers worldwide to enjoy smooth streaming experiences without interruptions or buffering. This commitment to providing quality online entertainment showcases the many benefits of a high-speed connection.
These real-world examples underline how the internet makes innovation and business growth possible across diverse sectors. From reliable online marketing to enhancing the customer's experience and delivering better services, high-speed business internet is the cornerstone of success in the digital age.
Navigating Challenges for High-Speed Connectivity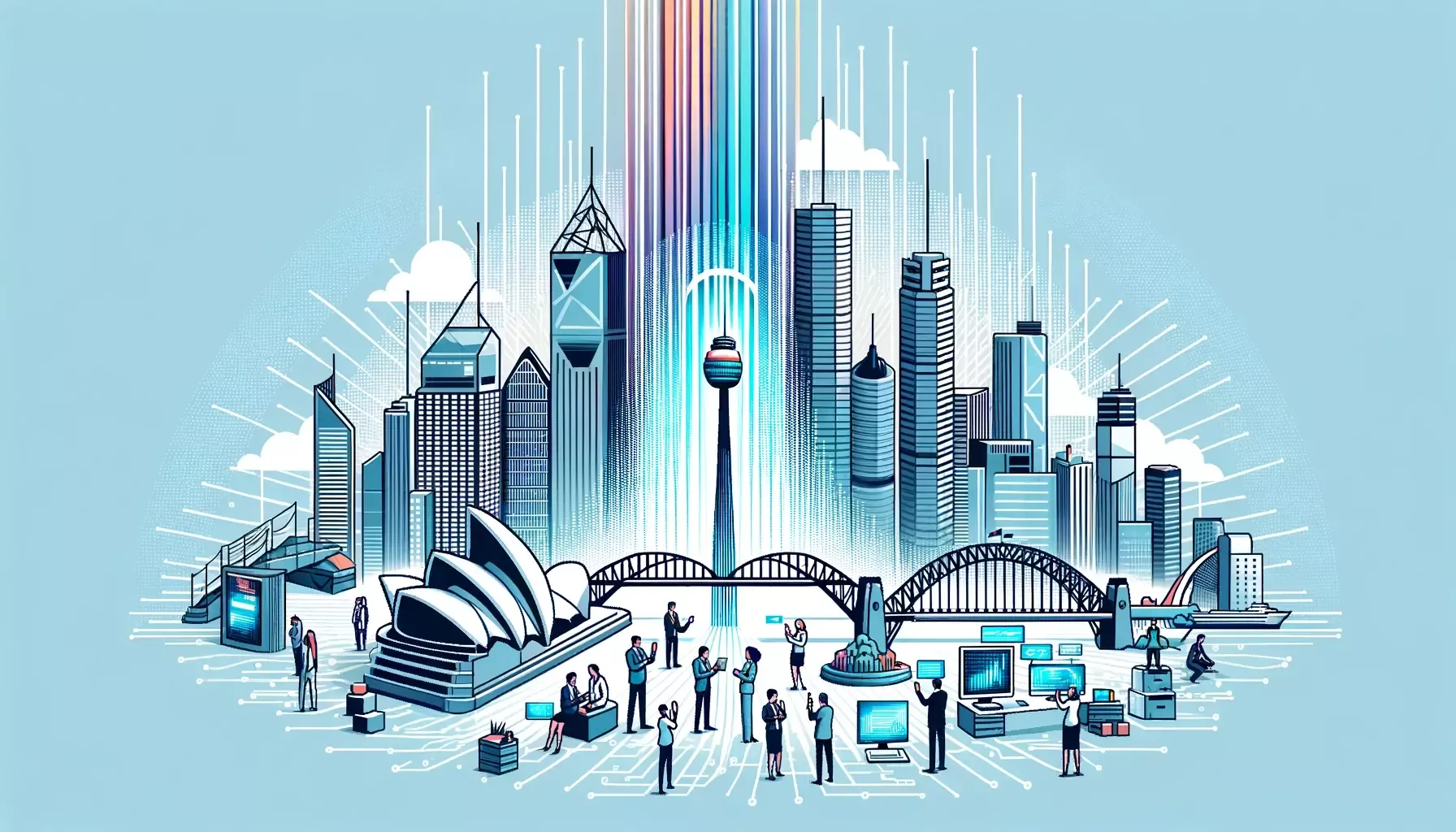 While the benefits of high-speed internet are clear, businesses may encounter challenges when navigating the path to attaining reliable and fast connectivity. As a business owner, this can be overwhelming, but don't let it discourage you.
Understanding these obstacles and identifying practical solutions is crucial for optimising your journey towards high-speed connectivity.
Let's explore some common challenges businesses may face and potential strategies to overcome them:
Infrastructure Limitations:
In certain areas, limited infrastructure can pose a challenge in accessing high-speed internet services. To address this, businesses can explore alternative options such as satellite internet services or work with local service providers specialising in delivering high-speed connections in specific regions.
This approach ensures that even in areas with limited traditional infrastructure, businesses can still benefit from high-speed connections and easily access online business tools to reach more clients.
Budgetary Considerations:
Upgrading to high-speed internet may require a financial investment for equipment, installation, and ongoing monthly costs. To mitigate budget constraints and save money, businesses can research available government grants or subsidies that support broadband adoption initiatives, allowing them to implement new business models.
Additionally, negotiating with service providers for competitive pricing packages tailored to business needs is essential. If you're a small business, this ensures you can enjoy better service without straining the budget.
Compatibility Issues:
Existing hardware and network infrastructure might not be fully compatible with high-speed internet requirements. A professional network assessment can help identify any necessary upgrades or modifications needed to optimise compatibility and ensure seamless integration of new business tools.
This assessment enhances the company's security and provides the safe sharing of sensitive data.
Security Concerns:
Robust cybersecurity measures are imperative when connecting to high-speed internet networks. Businesses should implement strong firewalls, use encryption protocols for data transmission, regularly update software and firmware, and train employees on best practices for safe online behaviour.
Protecting sensitive data becomes a top priority in the digital landscape, and businesses must prioritise their security to safely share resources and maintain the trust of their clients.
Reliability and Service Level Agreement (SLA):
When considering different service providers, it is essential to review their SLAs carefully regarding uptime guarantees, response times for technical support, and resolution processes during outages or disruptions.
Investing in a reliable provider ensures the company's security remains intact, minimising potential downtime that could disrupt operations and affect the business's reputation.
Scalability Planning:
As business needs evolve, scalability becomes crucial when choosing a high-speed internet solution provider. Future growth plans should align with the provider's capacity to meet increased bandwidth demands by offering flexible upgrade options.
This scalability means the business can adapt to new business models, accommodate more clients, and expand without encountering limitations related to internet access.
Technical Support and Maintenance:
Ensure that the chosen provider offers reliable technical support, proactive network monitoring, and prompt troubleshooting to minimise downtime. This level of support is essential for businesses, especially small businesses, to focus on serving their clients and adopting new business tools without worrying about technical disruptions.
By addressing these challenges and implementing the above mentioned strategies, businesses can leverage the significant benefits of high-speed internet while safeguarding their operations, data, and clients' interests. This comprehensive approach ensures easy access to better service and empowers businesses to thrive in the digital age.
Frequently Asked Questions (FAQs)
Share this post